WTH!
I recently had 2 client-owners comment that we have never recommended that they have their HVAC system cleaned. OMG!!! Are you kidding me? This was after water damage occurred at their home, due to their HVAC drain line clogging and overflowing the pan. It can resemble a busted plumbing pipe. I have preached preventative maintenance benefits and suggestions since I was a young property manager. You can count on me to always indicate how much cheaper preventative maintenance is over reactive maintenance. Folks don't always listen, but I say it just the same. Sometimes I reference what I call the "repair only" approach to maintaining a home. Failure to regularly clean your HVAC system falls under that category.
I decided then, that my next blog post would be on the importance of having your HVAC system serviced/cleaned/checked yearly, at least!! Our tenants sign a lease that requires them to change the HVAC filter at their home a whopping 12 times a year, so the other part of keeping the system clean falls to the owner.
Clean your HVAC BEFORE it's freezing cold or boiling hot
The time to do an HVAC cleaning is before peak season. This would be the hot season OR the cold season – or both if you are feeling froggy. If you want to be a good landlord, (and you should) you don't want your tenant without the system when they need it most. During extreme temperatures, or after property damage occurs is not the ideal moment.
If you want to keep a good tenant in your home for as long as possible, you don't want them to hear from the repairman that the malfunction could have been avoided with preventative measures. That info doesn't sit well when the temperature is 100 degrees and they change the filter according to the requirements of their lease. FYI, that is also not the time to ask for a bunch of estimates to get YOU the best possible price on the repair from your air conditioned dwelling. #timingiseverything
Stop repairing your old system if it's mismatched or old
Recently we had a technician tell us that a system in one of our managed homes was installed around 1966! A repair call came in on this antique, and the owner opted for repair over replacement. It goes without saying (but I will) that a system installed in 1966 is unlikely to be very efficient for your tenant to use or pay the electric bill for, and it's a poor investment to continue to repair a system that is 50 years old – that's about 35 years older than most systems even last.
Below are some tips and tricks that I sent out to owners & tenants this summer about the heat and a few things that I have learned about HVAC systems over the years. Now there will be a dated blog post to prove to owners that I definitely talk about HVAC maintenance constantly and in different venues even, as often as I possibly can.
2017 Summertime Newsletter
Hello owners and tenants! A Happy HOT July to you! I sent this memo out last year and wanted to share it again, because there is a lot of super information that you may have missed last year, that is most relevant this summer as well – probably the next one too!
Tis the season for EXTREME heat!
As you may know, or if you live out of the area, maybe you didn't, but we are having some super-hot days. This time of the year, our staff is very busy with service calls, especially the HVAC kind. Our office HVAC was out this week too, so we know the struggle is real. Fortunately Stephanie allows us to wear company Speedo's to the office on those days!! Ha Ha NOT!
Right now, HVAC companies are backlogged on scheduling and parts are in demand. If a service appointment is cancelled due to tenant schedules, expect that they may not be able to put you back in rotation for days or maybe even longer and there is nothing we can do. Calling another company (if it's an option – if an owner has a warranty, it may not be) may delay your repair even longer. So don't cancel appointments if you can avoid it. Vendors in the city are inundated with calls and under a lot of pressure from hot (and cranky) customer base.
Achieving temperature settings in extreme heat is extremely unlikely
Remember, at times of extreme heat, an HVAC system is working at capacity and STILL may NEVER reach the temperature setting and it doesn't signify a repair in most cases. Many units run all day without shutting off and are not broken. I am attaching an informative HVAC memo below – check it out. It explains what you should expect a unit to produce based on the outside temperature. This time of year, at my home, I have my blinds and curtains closed and sometimes apply clothespins to close gaps – tacky but affective in keeping heat out.
HVAC repairs are not always immediate
Please remember HVAC vendors will not work in the dark or in the rain. It's a safety issue and reputable companies (like we use) don't do hazardous work for insurance reasons. Everyone wants to get service first, but in times like these, we want to remind everyone to extend more patience with staff and vendors working non-stop to meet everyone's needs.
We will ask you several questions before scheduling a vendor to check the HVAC, so be ready with this info:
Did you check the breaker box to see if anything is tripped?
Did you check the emergency switch at the home if applicable? Kids switch those off all the time.
Is your HVAC filter clogged? Don't call for AC repair and have a filthy filter – it's just tacky and could cost you.
Does the thermostat have a battery that needs to be replaced? That may be all you need to do.
Is the outside part of the HVAC system frozen up? Go look for ice on the unit. If so, turn it off. No one can work on an iced up system.
Owners/Tenants – Things that you should know about HVAC Systems & Repairs:
Repairs & secondary damages are lessened by regular preventative cleanings yearly/bi-yearly and regular changing of filter.
HVAC's are cheaper to maintain and utility bills are lessened by taking care of the unit. Owners & tenants have a part to play in that.
Owners/property managers are not responsible for alternate housing until your HVAC repair is made.
Owners/property managers are not responsible for reimbursement of current or previous utility bills when a repair need is called in.
Owners/property managers are expected to take measures swiftly to address repair needs to comply with landlord/tenant law. Our team meets/exceeds this standard on HVAC calls, but it's still not going to be instantaneous, so be prepared to be a bit uncomfortable.
Owners are recommended to perform regular system cleaning of HVAC systems. Cleaning coils and flushing out lines yearly or bi-yearly is recommended and I include it in nearly every newsletter & inspection reports to owners as well. Homes can be severely water damaged by lines that are not cleaned out regularly. They can appear as if they are a plumbing leak. Sometimes we send out a plumber due to the amount of water leakage, only to be told that it's coming from the HVAC system.
Tenants are responsible for changing the HVAC filter monthly. An addendum is in every lease agreement. This will keep the system cleaner and reduce your utility bills. HVAC contractors recommend using cheap filters that allow air to flow through easily. Thick filters work the HVAC system harder and don't allow as much flow to occur. Perform a test and hear/feel the difference.
Staff members nor vendors will address HVAC calls during the night – no matter the temperature is, so there is no benefit to calling through the night while folks are trying to sleep. Middle of the night calls are reserved for emergencies such as like fires or rabid spider monkeys coming from drains.
Sending repair requests to the wrong team member can cause delay as many of us work out of the office. Send repair requests through the PM website or email to Jill at mailto: [email protected] for the fastest and service. Include our address & specifics about the problem you are having. Answer the questions above in your email to expedite the call. Jill is your repair guru!

Click:

Submit Perfect Work Orders

If your exterior system has ice on it, no one can work on it until it's melted, so you will want to shut off the system to expedite the repair of the system. Continuing to run the system could delay repair by another day or more. Yikes!!
I hope this is helpful in explaining any issues that you may have needed clarification on. Please keep in touch and ask any questions that you have. We are here to serve all of you, but remember we are also servicing a lot of others as well, so stay cool!! Mary
Click for another INFORMATIVE memo: HVAC-Newsletter-06-23-2014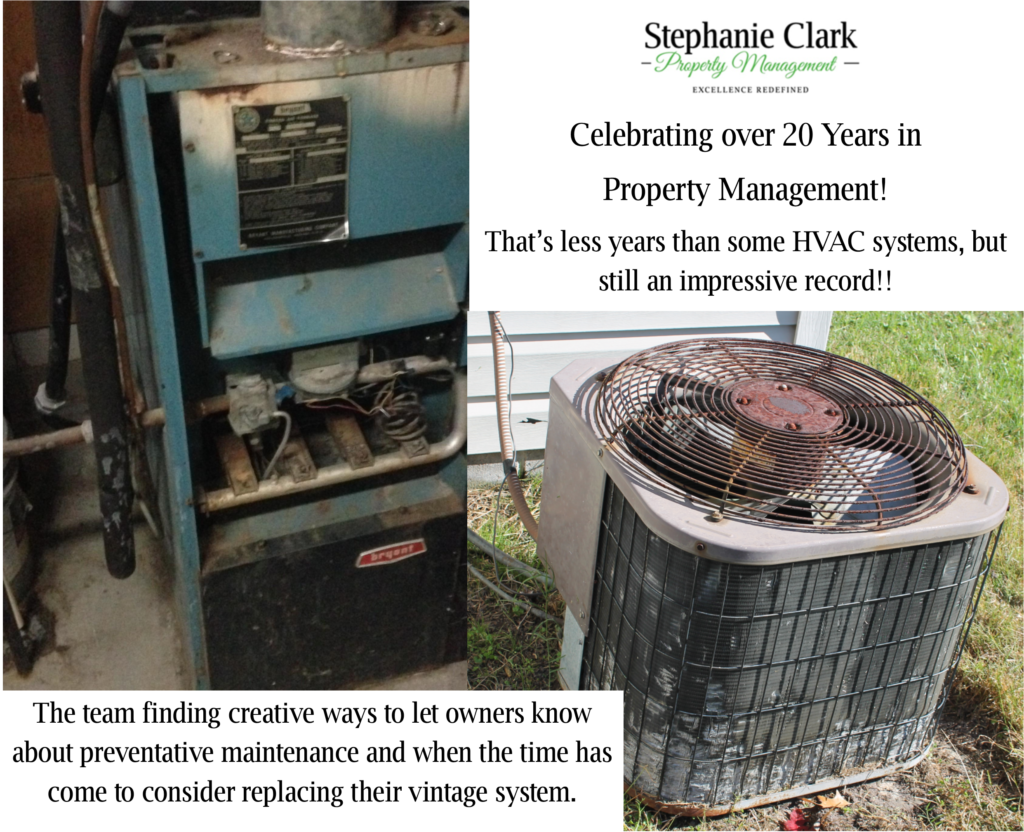 Mary – PROperty Manager for Stephanie Clark Property Management
Tags: HVAC, Landlord, Maintenance