What's on my mind today is finding balance and peace at work and home. Finding time to relax has never been harder than it is right NOW. Everyone has a phone on them at all times, and "they" know that you do too! You are probably holding it RIGHT NOW aren't you?
Balance
Finding balance can be tricky when the new "normal" has folks expecting immediate resolution to any old miniscule concern, whether it's day or night. We live in a world where answers are found at the touch of a button. This leaves people thinking that you (home you & work you) are able to respond to any inquiry instantly, no matter where you are or what you are doing at any given moment. It is a great thing sometimes, but not when you are trying to do something like LIVE LIFE!!!!
YOU Stop the Cycle
Getting something NOW is usually only possible at the expense of another human responding at a time that maybe wasn't so convenient for them. People with great work ethic, who are in the practice of pulling off miracles for clients, may be hard-pressed to continue that pattern in the digital age!
It is harder to be a rockstar without giving up personal time and important moments to respond quickly to requests that in the past were on your computer when you got to the office, but are now on your phone and wanting attention evenings and weekends too! It didn't happen overnight, but slowly over the years, work has crept into our home, movies, recitals, church, school, vacation, evenings and weekends too! It's epidemic, you will burn out if you don't get a handle on things.
Care for YOU
Wanting to satisfy your clients, spouse, children, friends, neighbors, has you taking on things on that maybe you shouldn't because while it's helping someone else, it taking over your "me time" which is should be sacred. Your plate is always overloaded and the phone never stops buzzing with another "thing" that you MUST handle NOW. I've been trying to come up with boundaries that make sense for me. Things that allow me to still make a client happy without irritating my husband and kids. How does one live in the moment? By planning to do so.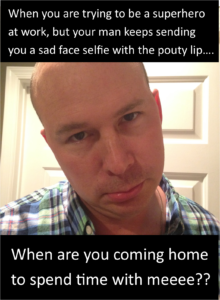 What is "normal"? What is the magical balance that pleases everyone? The answer is not magic. A song comes to mind… You can't please everyone, so you have to please yourself lott-in-dah-dah lot-in-dah-dah-dah. You have to weigh things and make some decisions that allow you to relax, enjoy life, handle what's important and allows you to still feel good about the job that you are doing at work.
Longing for the good ole days?
The olden days of enjoying the moment that you are in, seem to be gone. If you don't take a call or return a text, you are now upsetting someone. What to do? I've made some changes recently – maybe you will find some gems in my list.
Have a draft response that let's people know that while you received their text, but you are enjoying some time off and will answer when you get back into the office. Everyone understands "family time".
Change the notification settings on your phone or the amount of times that you check your phone each day. If I looked at my phone every time it had a text on it, I'd do nothing buy stare at my phone all day.
When you are doing something pleasurable, put the phone out of sight. Set a timer for a few hours and don't look at your phone until time is up. OMG!
Delegate, delegate, delegate. I stink at it, so this one has been hard. You have to realize that even though no one CAN do things the way that you do them, it isn't the end of the world to allow them to do them anyway. You may even be able to go back later and put your stank on the task with less effort than doing the whole job yourself.
Say "no" once in awhile. You've probably been saying "yes" too often and for too long anyway!
Remember: When someone is venting to you, they are not necessarily expecting that you solve the dilemma for them or take it on. Give encouragement, but don't take on the burden personally. You have your own problems I bet.
Take time for yourself every day to just "be". Try to eat meals, drink water, get up and walk about, listen to music that takes you to a great time & place where you had great times, clear your space of clutter – take up a relaxing hobby that keeps you away from your phone and electronics. Get a massage!!!
Make schedules for tasks that are fair to you and allow others to pull their weight around the house and at work. This is important for people pleasers who want to do it all for everyone and also control freaks.
Don't do things that are toxic to you. That may be a person, a group of people, an event that doesn't bring you joy anymore, a habit even.
Don't peek! Yes your work email may very well go to your phone too, but that doesn't mean you have to look at it. It'll keep, trust me.
Change your environment up. Make it suit the life that you want. Bring in new colors that relax, scents that soothe, have music playlists ready that conform to any mood you are in, or to pull you out of a bad one. Even lighting can totally change your space.
Go to therapy. Ask your doc what is a "normal" balance and the bonus to therapy is that you get to turn your phone off for a whole hour!!!!
Be considerate of those who YOU are interacting with as well. Your stuff may not need immediate gratification either!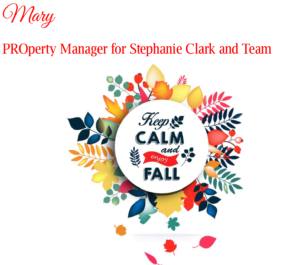 Tags: Property Management, Relax, Stress