Being a successful tenant and landlord starts with knowledge of how the systems in your home work!  Below are some plumbing tips that I give to our owners who are preparing for tenants for the VERY first time, so they can avoid damages in the event of plumbing disasters.  
Most of the water damage that I see in homes is caused by HVAC back-ups, but plumbing back-ups are a close second.  
What you can do
One of the many things that we ask owners to do, is simply to label their water valve shut-offs for future tenants to easily locate when needed. Our lease also instructs tenants to immediately upon moving in locate water valves and show all occupants (even the youngins) where they are located and how they operate.  If everyone does as instructed, the likelihood of property damage is greatly lessened or eliminated.
I like to have easy-to-share PDF's handy for sharing with tenants when a freeze is coming so that I don't have to invent a newsletter each time. I'm all about efficiency and proactive approaches in property management. 
This is a link that I send out to my tenants and owners: Please Read – Water Valve Info for Your Home
Have good contractors on tap when needed
Recently, I spoke to my all-time favorite plumber, "Jack the Plumber", owner of the cleverly named "Jack the Plumber Plumbing".  He took the time to read over my water valve newsletter and told me even more useful information that I was unaware of. Don't stop reading now!  
Some advice about the water cut off valves from my good buddy Jack the Plumber:
Valves with round handles are sometimes "gate" valves. When you turn the handle clockwise several times, a gate drops down to stop the water from flowing through the piping. Gate valves often break in the "off" position and the user cannot get the pressure to come back on when they turn the handle counterclockwise.

As a matter of fact, you know it is broken when the handle turns and never stops turning. That is when the gate has broken off of the stem.

The better valve nowadays usually has a blade handle and the operator turns the valve handle only a quarter turn; that type valve is called a "ball valve". There is a ball inside the valve with a hole through it for the water to flow through when turned on, but one more quarter of a turn (ninety degrees) blocks the passage and stops the water flow. I have not seen a ball valve fail yet, so it would seem that ball valves are the better valve.

Lastly, owning a "meter key" is a great advantage when needing to turn off the water at the city meter. Your homeowners could supply a meter key (mounted on the garage wall) for the tenants to access upon an emergency situation.

I enjoyed reading your info, it is packed with good advice. Jack (The Plumber)
You can check out Jack's website AND get a coupon by visiting: www.plumberjack.com  
Vacant homes can develop plumbing problems
As a property manager, I have noticed over the years, that homes that have been vacant for longer periods of time seem to commonly have back-ups occur once a tenant moves in and starts running water in the home. When homes are vacant for more than a few weeks, I advise my owners to run their dishwashers, sinks, showers, tubs and toilets BEFORE tenant occupancy to make sure that the lines are clear and ready for action. When I asked Jack (The Plumber) about this phenomenon he gave me his input on the issue. I shall now impart his wisdom on to you!!!
Jack says…
I agree that homes do seem to have more trouble with drain issues if they sit for a prolonged time. I believe the "gunky" stuff that grows inside drain pipes gets dried out and then falls off of the pipes and clogs the drain system when the new tenant moves in and starts re-wetting the system. The best thing to do is fill each fixture and flush the drains before a tenant moves in to check if it is going to work properly once a new tenant is about to receive the keys. There is an enzyme cleaner called "Drain Care", and it comes in a liquid container and it may help the situation if a little could be poured down each drain to assist in clearing out the "gunky" stuff. Some of my customers use that to keep their washer drains open.   

Jack (The Plumber)
There are lots of things that owners can do to help their tenants better maintain their home, this is but one.  Inform, educate and instruct your tenant on how your home and equipment operate.  Put important requirements and instructions inside your lease and make sure they have all of the tools needed when disaster strikes to take action to protect your home until help arrives.  
Mary – PROperty Manager for Stephanie Clark Property Management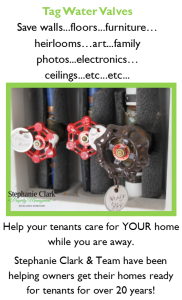 Tags: Disaster Planning, Insurance, Plumbing, Preparing for Tenants, Tenants, Water Valves