In my experience, when a homeowner lists their home for rent, they have a specific price in mind that they must (per them) achieve to cover their expenses, including their management fee. 
This is perfectly reasonable and a lofty goal that I aim to help you achieve with a quality listing and descriptions across the internet.  Keep in mind though, while that price may determine your needs, it may not match up with what the market is willing to pay you for rent in any given year.
You don't always get more and sometimes you get less
What you may have achieved in 2018, or your neighbor may have gotten last week, may not be what your home rents for.  It is a guideline to use while determining your home's value. 
To avoid vacancy loss, owners should expect to be flexible with price changes, that is, if financial loss is an important factor for you. If financial loss is not a factor for you, CONGRATULATIONS, you do not need to read any further!  Go back to counting all your money.  
Financial loss can be minimized and avoided entirely
Now that those folks left the page, the REST of us folks that do care about financial loss, and it is a governing factor in life decisions, should consider price changes to avoid vacancy loss when interest in your home is slow or non-existent.
Vacancy Loss
The internet defines Vacancy Loss:  In real estate investing, it is the amount of money or percentage of net operating income that is estimated to not be realized due to non-payment of rents and vacant units.
Basically it's money that you don't have in your pocket because your home is sitting empty.  Below is a scenario that I made up, but it mirrors actual events that I see year-after-year with marketed homes in Hampton Roads.  I've made a simplistic example so that it's easy to explain, but also because my math skills are less than stellar.
On 01-01-17, Sally Anne & Billy Bob both put their home on the rental market. They were both hoping to rent at $2,500, but Sally was willing to drop her price in order to entice the market (shopping renters) to choose her home and to also avoid excessive vacancy losses. Billy was stubborn as a mule and held out for his MUST-HAVE rental rate.  He wouldn't budge an inch on suggested reductions to get his home rented.  
The chart below lays out the lost rent that Billy experienced by holding out for his desired monthly rent and renting later in the season.  If you rent even 30 days faster by lowering your price, there is a BIG difference in income at the end of 2017. 
Sally dwarfed Billy's earnings by over $5K in rental income in 2017, even though she reduced her asking price 3 times.  If you consider a 12-month scenario of Billy Bob holding out another month, the loss is an additional $2,800+!  Not only was his home vacant with no rental income coming in, vacant homes can develop mechanical and plumbing problems from lack of use.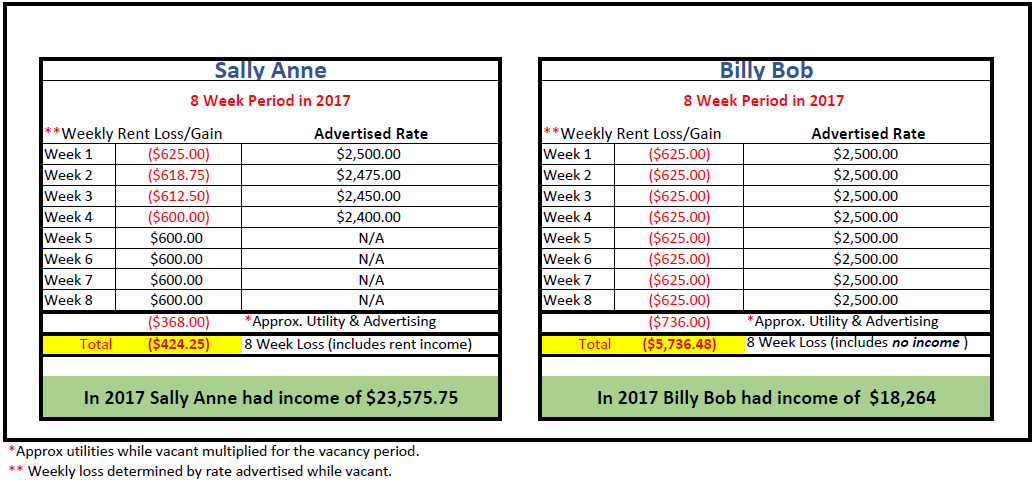 Avoid Vacancy Loss
If interest in your home is low at your advertised rate, my advice to owners with homes on the market is to reduce pricing weekly to make more money yearly.  This hypothetical chart, presumes that your photos rock and your description is enticing.
Lower Pricing
There is zero point to keeping your price the same if no one is looking at your home at that price.  Not only do reductions keep interest up, it gives your agent a great reason to reach out to anyone who inquired about your home while it was marketed with the great news of your lower rate. 
Lower pricing may inspire prospective renters to move forward and rent your home at the new rate.  It also keeps notifications going out in search engines which is how people shop in this modern age.  The more times your home shows up on their search, it is more likely that they will take a look.  
When reducing price doesn't help, it's time to examine your product itself.  Does your home need obvious repairs, is it dated, is it clean?  Consider staging options or move-in specials if the market is extra tough.  If all else fails, hire a professional.  :) 
Mary – PROperty Manager for Stephanie Clark Property Management
Tags: Hampton Roads, Loss, Rent, Vacancy, Vacancy Loss, Vacant Home, Virginia Beach