Move-out inspections with a landlord are dreaded more than just about anything on earth.  Everyone wants their security deposit back and trust me, landlords would LOVE to give it all back to you.
Tenants think that property managers want to keep their money, but honestly, our job is far easier if you move out and the house looks amazing.  It means we don't have to deal with angry owners or coordinate vendors, services, repairs, housekeepers or re-inspections.
We don't have to do squat with a perfect move-out.  It's heavenly and rare.
Cleaning is subjective and EVERYONE has a different opinion
Deposit return is a hotly debated issue, and it's impossible to please everyone.  Tenants moving out are frustrated at the magnitude of cleaning and the number of services that are required.
The tenant moving in is almost assuredly NEVER satisfied with the cleaning efforts of the tenant that just moved out.  I have found this to be true in cases where a home was cleaned by the tenant and even in cases where the a professional housekeeper was hired.
There is a perfectly logical explanation for it.  Cleaning is subjective and EVERYONE has a different opinion of what they consider clean.
EVERYONE has specific items that are more important to them than others.  You don't have to please everyone though, you just have to please ME!  Or your respective property manager anyway.
The most extreme case that I can think of, and I have 20 years to draw from, is a story that was told to me by a co-worker, who happened to be the tenant in this story.
Rochelle and her lovely family were moving out of a home that they rented while serving overseas and they encountered what may be the most intense move-out inspection of their lives and that is saying a lot!
As a seasoned military family, they had moved plenty and knew how to rock it out and remove any evidence of their living at the home.
They had thoroughly sanitized and cleaned every square inch of the home, or so they THOUGHT! The homeowner was fuming as she walked around and then, the final straw…
This woman actually lifted the toilet tank cover and inspected the interior tank and proclaimed that it had not been touched!!
Well of course not, who cleans in there?  Not me!  I've never met anyone or known anyone that required or inspected the innards of the toilet tank for cleanliness.  I certainly couldn't speak to what a dirty or a clean one would even look like!  So when you think your property manager is being ridiculous, remember that nutcase!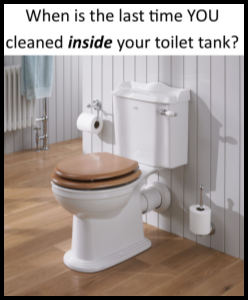 Moving out of one home and into another is an extremely strenuous task.  I've noticed the older I get, the more physically exhausting the process is.  Coincidence?
By the time you have done all of the packing, moving and heavy lifting, who feels like they have the energy left to perform a thorough cleaning, let alone one that meets another person's standard of clean?
Something is ALWAYS missed
One thing you can count on is that you can ALWAYS find something was missed.  I could have Mr. Clean himself clean a bathroom, and if a hair dare to fall off my head during the inspection process and land unknowingly upon the surface of your sparkling and sanitized bathtub, my new tenant will be mortified to come into contact with it and declare the home unsanitary on sight!
Let's face it, anything found in your new home that proves the existence of another human is always grosser than gross!
The best thing that you can do is to get a good indication from your property manager about what they are expecting from you and what your lease requires.
An organized property manager will have well-written guidelines to help you through.  Some of the super-cool property managers will even provide you with a targeted checklist!    
When new tenants call and let us know that the home didn't meet their standards, I try and let them know how impossible it truly is.  Part of settling in and making the home your own will mean cleaning it to YOUR standard.  The clean that you like to see and will feel good about.  Think of it as part of making it home, and you will find that it's much less frustrating.
Sometimes your perception of a situation can make a HUGE difference in the overall experience of it.  So tenants moving out, expect that you may have some cleaning charges and it's not that big of a deal.  It doesn't mean that you were not a great tenant – everyone misses something.
Tenants moving in should find a way to enjoy the new digs and take pride in making the home YOURS!   In fact, if it pleases you, clean the interior of the toilet tank.  Diversity makes the world go 'round!
Mary – PROperty Manager for Stephanie Clark Property Management