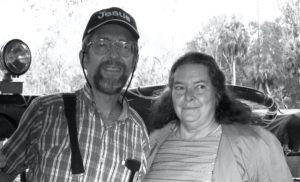 Last week in a quiet Hospice room, my aunt Diane took her leave of this world alone. Coronavirus has limited hospital visits, but there were few people left on earth who would have gone anyway. Diane was the most prolific hoarder that I've ever known and I've encountered a few in my time in real estate.
Over the years her mental illness was progressive, making relationships near-impossible to maintain, but she was still well-loved as best we could.
None of these hoarders have anything on MY Aunt
I watched that hoarding show a few times and thought – none of these hoarders have anything on my aunt. It was kind of a brag really – my claim to fame. She could have absorbed those televised collections easily and unnoticed if given opportunity.
If we wanted to see Diane, we need only turn on the Tampa news. The community and Hillsborough county battled her constantly over her prized collection. Coverage of her was regular.  She'd been amassing her collection for years and as her collection grew, so did the community scorn.  When she wasn't on the news, she was under the scrutiny of Hillsborough County Code Enforcement.  
Not everyone understands that hoarding is a mental illness, but our family suspected this for decades. Around 2013 HUD made a point to specify hoarding as a protected class, after it was recognized by the American Psychiatric Association as a mental disorder and therefore a disability. It helps tenants like Diane avoid penalties or wind up homeless because of their medical condition.
Hoarders are not trying to upset others, it's not a choice for them to collect or not collect. It is their very existence and purpose in life. They need compassion and also shelter.
As a property manager, I've seen both sides of the coin. It's not always easy to balance caring for a home for an owner while respecting the tenant's privacy and rights, but it is something that we must do as long as it's not damage-causing to the property.
The first hoarder I encountered as a landlord was in 1999 and he hoarded partially used bars of soap! He stacked slivers as high as he could. It was actually quite a feat to behold.
More importantly, she was usually very well-armed
In 2018, I reached out to news channels covering my aunt's hoarding, asking for understanding of her condition and more dignified coverage.
When cameras were on her or her collection, she would go at them full force. Whatever she may have been to others, she was still a human being and my family. More importantly, Diane was usually very well-armed at all times. I worried – that was her property and she was going to protect it.
Before Diane became the community nuisance, she was simply my quirky aunt.  We would go over her house for an adventurous meal of turtle stew, to celebrate birthdays or play some horseshoes.  Friday nights, if I was lucky, I'd get to go with her and my grandparents and watch them all square dance in beautifully extravagant and colorful twirly costumes.  Diane was a talented dancer and even taught others to dance.  She tried to teach me a few times, but I have two left feet and no discernible rhythm of any kind.  
When Diane dressed up, she turned many heads in her day with long jet-black hair and an hour-glass figure. In my small world, she was everything that I could hope to be.
Diane was a veteran. She joined the Army at a time when women didn't really do that and when some drafted men were taking off to Canada to avoid Vietnam. She was stationed in Germany during the war, as a dental hygienist.
Sometimes she'd come to our house to help me pull a loose tooth and prepare for Tooth Fairy action, but I knew I better not try to toss a plastic fork in the garbage on her watch. It was to be cleaned and used as long as possible. She probably still has them all too.
Maybe she was just the worlds best recycler.
She would confiscate discarded bed pans and other plastic disposables when visiting others in the hospital. Talk about embarrassed, but in her mind, she would have them handy in case someone got sick and needed them and the hospitals were just going to throw them away anyway. Maybe she was just the world's best recycler. :)
Over the years, we watched her decline. While she was always eccentric, her "collection" was growing out of control, it was acres big. Her homes (yes homes) and grounds could be seen from Google Earth (far away too) and toward the end of her life, she had 14 storage units as well as a home and yard full of junk.
Once she showed me an old chair that she had found and planned to sell. I mentioned that it only had three legs and she assured me that someone out there had a leg for it. FYI – she wasn't kidding.
Diane always had stories and plans of what she would build "one day". She dreamed of having people over to her home with organized stations for dancing, laying in the sun (on 20 deck chairs snagged from a hotel trash), picnics on her many tables or playing games of every kind you can imagine. She had them all after all – in triplicate.
Even as a girl, I could see that her dreams would never be realized. People would never come to her place and those good times were never to be had. But maybe the joy to be found was not in the what would or wouldn't be, but in the excitement of planning it. I like to think about it that way and I hope she was happy.
I remember once in 1995, my dad and I saw her walking and my dad identified that she was wearing his pants from high school circa 1970-ish! Diane had every tooth she ever lost, every toy she had ever played with and she could tell you exactly where each was located 50 years later, in spite of hundreds of boxes and mountains of junk. And oh what a collection it is.
One man's trash is another man's treasure.
In 2019, she nearly died in her own home. A neighbor alerted us that her car had not moved for days. She was trapped inside her own bathroom of junk after a bad fall.
There wasn't a single day that Diane wasn't out collecting treasure, and everyone around her knew her routine. She knew all the trash pick-up days around town and would forage on a tight schedule. The community was accustomed to her daily movements. She would buy anything that she couldn't get free.
Everyone knew her, of her, or had at least seen her around town collecting. She was part of the community in her way and she wasn't afraid to ask you for your trash. The saying goes – one man's trash is another man's treasure.
Beyond collecting, over time she also became paranoid and defensive. She went from putting up 8' black sheeting around her homes to keep people from looking at or taking her things, to installing tall privacy wooden fencing in its place around acres of junk. She would have secret latches so she could come and go undetected and to keep people out.
Right now there is no telling what her estate plans were, or if she even had any. Estranged from her family, neighbors are trying to fill in the gaps. She could have left a fortune to a fellow junker, or a path of bills and liens a mile long. Hillsborough County fined her for decades – at one point she amassed a quarter of a million dollars in fines alone.
By the end of her life, she declined medical procedures to treat cancer because of her fear that doctors would put something nefarious in her body. This misguided belief likely speeded her passing.
When I saw her last, she was not remotely the woman that I once knew. She no longer kept up her appearance, or seemed to wash often, her days consumed with collecting and to the detriment of her own body. But she was still a force to reckon with – I suspect until the very end. But I wouldn't know for sure, because I wasn't there either.
While I'm sure her neighbors are thankful that her collection will be gone soon and the street returned to "normal", I shed a tear for her for the life that may have been if only… My dad was quick to remind me that she loved her "hobby" of collecting each day and what she may find. She did what she loved doing and how many of us can say that we did what we wanted no matter what anyone thought? Not many.
While those around her were not impressed, she enjoyed her things and every day on earth held the possibility of a new treasure waiting to be discovered. I resolve to look at things that way, and I hope that others will soon forgive her perceived transgressions and remember her fondly in some way. She made the world an interesting place and I will miss her when I visit home and she's not there foraging.
Brenda "Aunt Diane" Owings December 30, 1948 – June 19, 2020. Aunt, Big Sister, Daughter, Army Veteran, LPN, Expert Dancer, Loose Tooth Puller, School Bus Driver and Treasure Hunter – Level Expert
Mary Kenworthy – The sad property manager today.
Always, if you have questions, we've got answers! Mary K. @ Stephanie Clark Property Management
Tags: Hoarding, HUD, Mental Illness, Property Management, Protected Class